The Holy Grail of every mechatronics architect is probably making a system fully autonomous. For years numerous ideas were born out of the imagination of inventors. As of today, unfortunately, none of them are ideal and few are well suited for medical devices. Which is why
Vitruvens

aims to be a pioneer in the development of application specific autonomous energy solutions which combines patient comfort, miniaturization and reliability.
Smart-UTET:
Ultrasonic Transcutaneous Energy Transfer
The limits of TET in view of the new stakes
Nowadays, miniaturized active implantable medical devices are implanted deeply in the body; some will even be in motion (Intracardiac implant, endoscopy pills, etc.).
Traditional wireless Transcutaneous Energy Transmission commonly called TET is no longer adapted for these new usages.
Meet the new challenges of medical implants
Vitruvens is developing an innovative UTET, a wireless ultrasound power transmission device capable of transmitting an ultrasound signal from outside to inside the body and converting it into electrical power locally inside the implant with several breakthrough features and benefits like:
Deep power transmission up to 10 cm
Tolerant to static and dynamic (implant motion) misalignment +/- 20 mm
High miniaturization
Communication through the ultrasonic career up to 10 Kbit/s
Light and user-friendly wearable external energy transmission device
Power transmission through metallic surfaces like titanium without heating up
The FDA allows higher power density for ultrasound waves of up to 720 mW/cm2 versus 10 mW/cm2 for RF energy transmission
Higher efficiency: the ability to focus the energy beam on the target, enabling higher miniaturization versus RF technics
Naturally compliant with a magnetic resonant medical instrument (IRM)
Better and deeper insight into battery health
Managing the batteries' State of Health (SoH) is becoming highly strategic for all the stakeholders of the emerging electrification sector.
A battery involves complex chemical reactions which make its state of health inspection and diagnosis extremely difficult. Recent discoveries demonstrate a relationship between the State of Charge (SoC), the State of Health (SoH), and the signature of an ultrasonic signal propagating through the battery cell.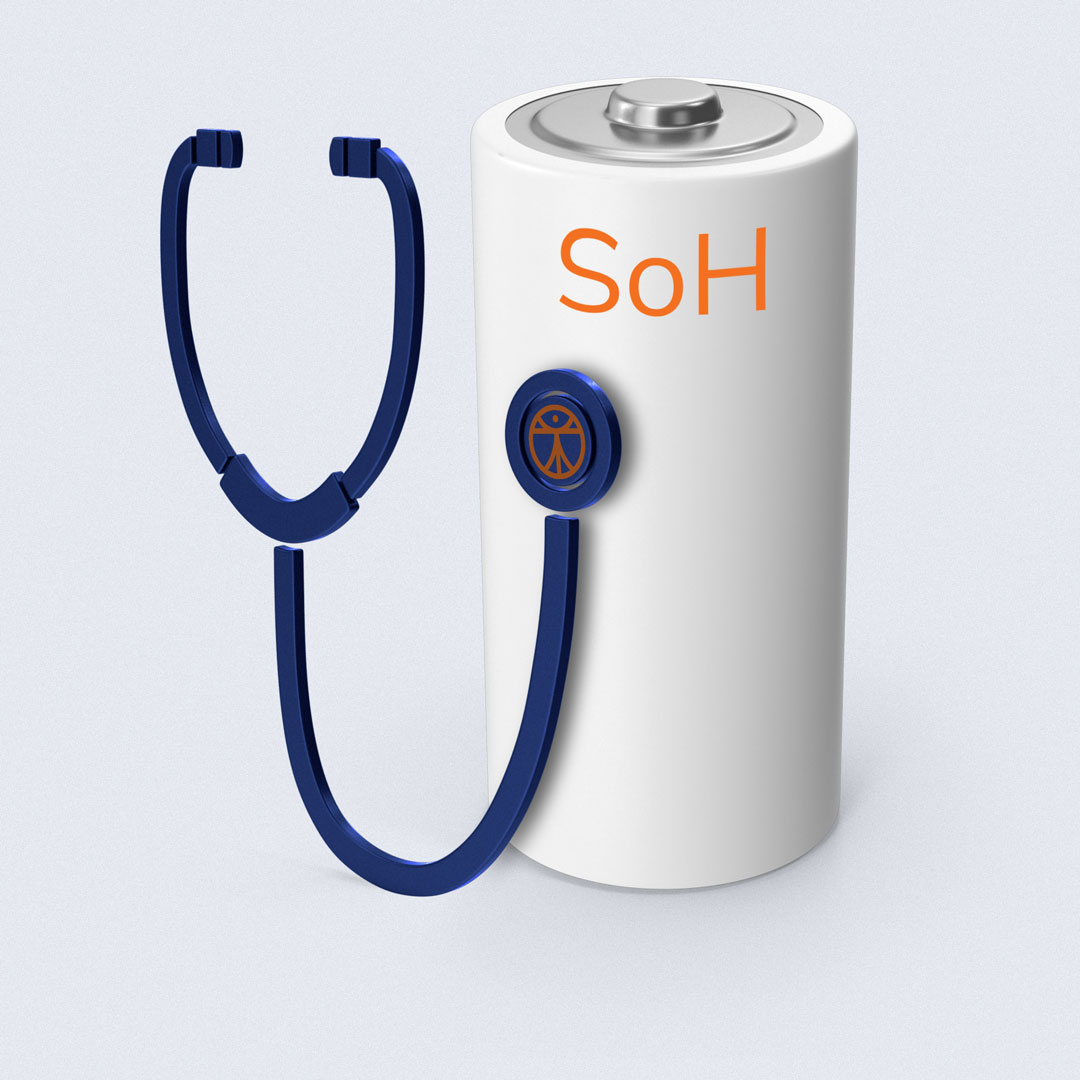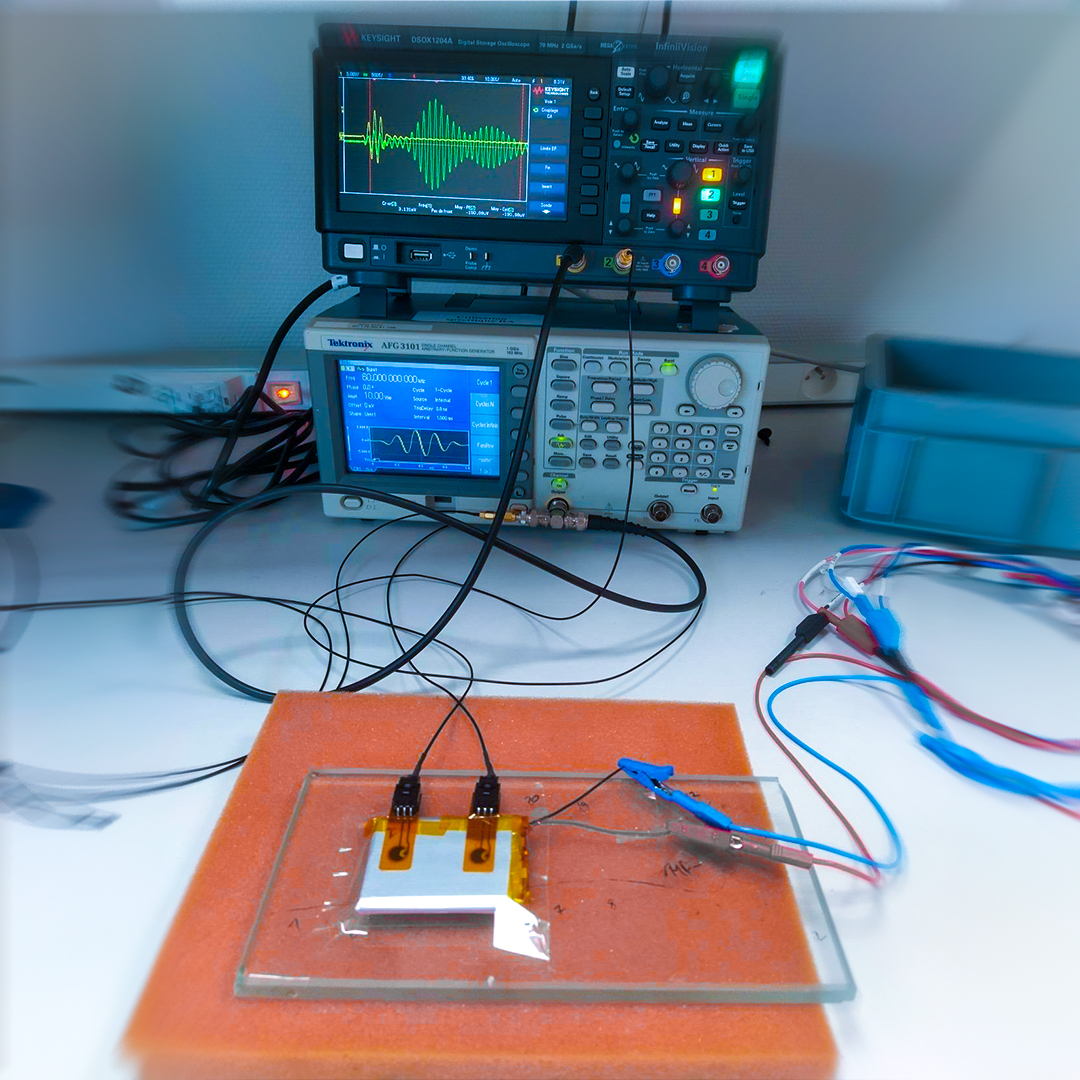 Giving a second life to batteries and improving their efficiency
Vitruvens is developing an innovative acoustic battery monitoring technology that can be used at a different level of the value chain: inspection and sorting during battery manufacturing, aging monitoring for onboard applications, or even diagnosis for potential reuse in a second life.
What do these innovations
mean for you ?
Smart-UTET
Vitruvens

can design and adapt the form factor of the ultrasound transceiver according to the mechanical constraints of your medical device and its electrical requirements.

Vitruvens

will also provide full assistance and recommendations for the proper management of electrical transmission.
BattHealth
Through this innovative approach
Vitruvens

will be able to propose testing and sorting solution during the production of the battery, on board ageing monitoring of the battery pack for preventive maintenance of electrical vehicle for instance and last but not least State of Health (SoH) inspection and diagnostics for considering a second life of battery or it has to be recycled.
Would your product benefit from one of this major innovation ?
Get in touch and see how

Vitruvens

can take your device to the next level.